Malaysian Prime Minister Muhyiddin Yassin has announced a nationwide "total lockdown" starting on Tuesday as coronavirus infections in the country surged to record levels.

Muhyiddin said the stricter lockdown from June 1 to 14 was for all social and economic sectors, and that only essential services would remain in operation. (source Bangkok Post)
Le confinement mou ne marche pas. Forcément. Alors on passe au confinement dur. Forcément.
Pour 15 jours.
La raison de cette panique ? La terrible pandémie… explose.
7 000 cas par jour, pour un pays de 32 millions d'habitants.
60 covimorts par jour…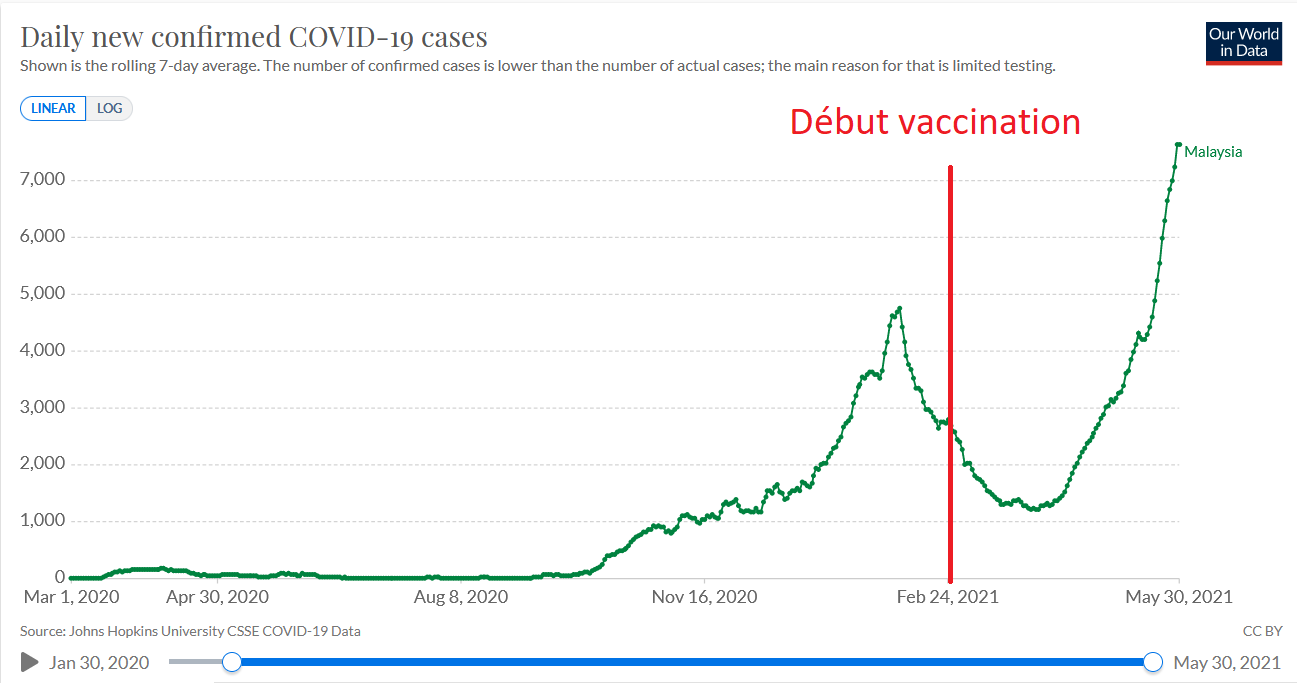 Des chiffres qui font pouffer les Européens et les Américains…
Que se passe t-il ? Alors que le couillonavirus était… absent en 2020 ?
Nous l'avons dit : les masques, la pseudo discipline asiatique… tout ça c'est de l'excrément en boîte. Le virus, les virus font leur vie.
La Malaisie a vacciné 6 % de sa population (1 dose).
Mais il y a un soucis… Le grand pays frontalier… la Thaïlande, avec 2 fois plus d'habitants, connaît aussi un "pic épidémique"… Mais avec seulement 4 000 cas et 30 morts par jour. Officiellement.
Alors que le climat est identique, que la frontière est poreuse, qu'il y a des grands centres urbains etc. Seule différence : les uns sont musulmans, les autres boudhistes.
Le couillonavirus serait-il islamophobe ? 😉
Conclusion : la Thaïlande pipote. Il est de notoriété publique que le royaume de Siam ne teste pas… Très peu.